Kati basti (Lumbar Spine Treatment)
The procedure of applying heat to the sacral or lumber region by retaining warm medicated oils, which is in a specially formed on that area, is popularly known by the name KATI BASTI. The term basti here is a misnomer. Basti generally refers to the administration of medicine through the rectal route by using the specially designed basti instrument. However, the Kati basti does not involve any such procedure rather this is a localized form of swedana procedure. As warm oil is used to apply heat, this is considered as a variety of snigdha sweda.
Indication
The procedure swedana itself is beneficial in relieving the pain; in addition to this, medicated oil that gets absorbed from the skin has unique therapeutic effects. This procedure is proved to be effective in- painful condition of low back region
Lumber spondilitis
Spondylolysthesis
Disc prolapse
Ankylosing spondilitis
Rheumatic arthritis
Sacroileitis
Lumbosacral strain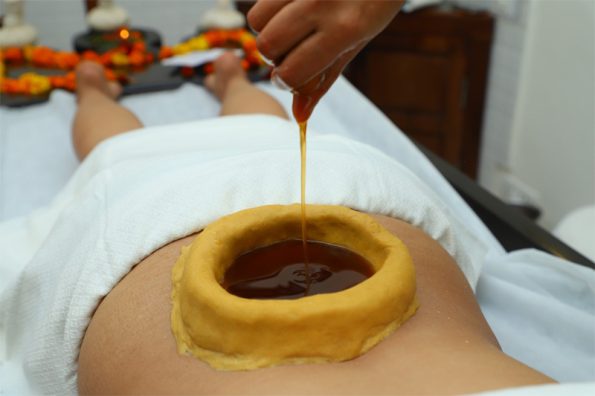 You can Treat Back Pain?
Kati Basti
Definition
Application/retention of warm medicated oil on the back (lumber region) with specific frame is called Kati basti.
Benefits
Treat back pain and stiffness
Sciatic pain treatment
Lumber disc prolapsed
Pain in back muscles and tail bone
Opens the circulatory channels of back area
Effective in lumber spondylosis
Ankylosing spondylitis
Rheumatoid arthritis
Lumbosacralstrain
Ingredients
Warm medicated oil/ Mahanarayan oil/ksheerbala tailam, ashwagandha tailam, sesame oil/ saindhawadi tailam
Chick peas flour for making boundary wall.
Cotton piece to facilitate the oil droping and removing oil
Preparartion of Cleints
Morning time is best
After evacuating the bowel and bladder
Before bath
Warming up exercise
Lie down on the treatment table prone position and relax
Clean the lumber region
Procedure
Make the dough with chick peas flour, not too soft and not too hard
Make a circular shape with dough
Apply and fix on the lumber area
Make it oil leak proof
Warm the oil and pour middle of the boundary wall
Fill about 1-2 inches and leave it for 5 minute
Take out half of the oil with the help of cotton piece and make it warm and put it back
Again wait for 5 minutes
Repeat the process for 5 times
Take out the oil and clean the surface with hot water towel
Apply Heat with Pinda
Apply the hot bundle with Pinda swedan
Use about 5 – 10 minutes
Make sure whole lumber area is warm after the pind
Duration
40 – 50 minutes each time
3 to 7 session
Precaution
Oil should not be very hot, up to 40 C is great
Oil should not be cold, less than 35 C
Careful about hot oil
Be careful while doing Pinda, person skin should not burned
Post Procedure
Clean the area with hot water towel and client ask to rest for 15 minutes
Eat light food as khichadi once you feel hunger